Nestled amid a serene acre of land, this Rockhaven Circle home underwent a remarkable metamorphosis under the skillful hands of Level Craft Construction. This Atlanta gem with four bedrooms and three-and-a-half bathrooms encompasses a generous 2,745 square feet featuring a newfound allure.
Glistening in sage-green siding coupled with an inviting brick exterior, the abode stands as a beacon of splendor within the neighborhood. A stately wooden front door adds an air of sophistication while the spacious front lawn beckons with warmth. Venture onto the expansive covered porch boasting elegant dark-gray floors and ceilings adorned with golden wood paneling – ideal for outdoor relaxation!
Crossing the threshold, guests are greeted by rich wooden flooring that harmonizes delightfully with the soothing gray wall palette. The seamless flow between the living area and kitchen welcomes visitors and residents, complemented by a staircase that gracefully ascends to the upper level.
An open-concept design unveils a culinary haven within the residence, where a gourmet kitchen takes center stage. White marble countertops exude opulence, complemented by a herringbone-patterned backsplash that adds a touch of finesse. Stainless steel appliances, pristine white cabinetry and an oversized kitchen island crowned with a waterfall countertop grace this culinary masterpiece. A dash of drama is added by navy-blue cabinets, effortlessly integrated into the ensemble. Completing this culinary haven is an expansive walk-in pantry replete with generous shelving.
The kitchen seamlessly flows into a spacious dining area overlooking the main living space. Here, a resplendent fireplace commands attention, featuring a herringbone-patterned surface and a wooden mantel with built-in shelving and cabinetry that caters to aesthetics and practicality. An adjacent laundry room, adorned with vibrant and whimsical wallpaper, offers ample storage and a convenient door leading to the back patio. The first floor also unveils a half bathroom decorated in soothing pastel blue tones, boasting a single vanity with pristine white cabinetry and elegant gray countertops.
On the primary level, the expansive owner's suite reigns as a sanctuary of indulgence. A sliding barn door unveils a walk-in closet thoughtfully outfitted with shelving, drawers, hanging rods and a full-length mirror. The ensuite bathroom is a vision in pastel blue, accentuated by gray tiled flooring and a double vanity adorned with dark gray countertops and pristine white cabinetry. A cutting-edge horizontal mirror with an LED light feature adds a touch of modernity. This lavish retreat includes a freestanding tub and a walk-in shower enveloped in exquisite white marble tiling climbing the walls, paired with light-gray geometric tiling on the shower floors.
Ascend to the second level, where a modern aesthetic graces the first full bathroom adorned with light-gray walls, white tiled flooring and sleek white cabinetry and countertops. An additional private room is a relaxing haven featuring a shower and toilet. The upper level embraces yet another full bathroom and three cozy bedrooms.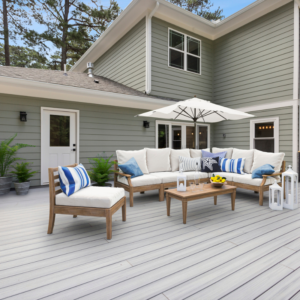 Double glass doors leading from the main living area unveil a sprawling back patio, an extension of the indoor oasis. With a built-in wooden bench and ample space for outdoor furnishings, this patio is the epitome of a gathering space and entertainment hub.
This resplendent home also caters to practicality, offering an expansive one-car garage and a generous driveway that seamlessly complements the sprawling green surroundings.
Ready to take the first step on your Level Craft Construction journey? Contact the team at 404-704-7350 or www.LevelCraftAtlanta.com today.