Podcast: Play in new window | Download
Jeremy Garlington advisor of commercial sales with PIETRA Luxury in Stone is in studio on today's episode of Atlanta Real Estate Forum Radio. Joined by co-hosts Carol Morgan and Todd Schnick, the group discusses the various products and projects available by PIETRA Luxury in Stone on this segment of All About Real Estate.
Garlington, an Atlanta resident for over 30 years, has an extensive background in consulting, marketing, branding and leadership. At PIETRA, Garlington is responsible for ensuring the brand is represented appropriately in many facets of the industry. Garlington also works very closely with Tina Vercelote, Managing Partner at PIETRA, and a highly accomplished professional with over 20 years of experience in design and development.
Based in metro Atlanta, PIETRA is a luxury natural stone company. With access to some of the finest natural stone through a long-term relationship with Antolini, an Italian manufacturer and a widely respected global brand, PIETRA has become one of the top luxury natural stone distributors.
"We hosted an event in October with about forty designers in Atlanta," said Garlington. "There were people walking around asking us if our products were truly natural. It looks like someone painted on some of the features, but it's actually all-natural. It's straight out of the earth!"
PIETRA offers countertops, backsplashes, accent walls and more. Other accent pieces are also possible as well, with several recent projects featuring outdoor kitchens, pool rooms, above cabinet spaces and more. PIETRA also has unique projects in the works or beginning in the near future. For the first time in North America, there will be a house with a natural stone perception wall. This accent piece changes as the viewer walks from the left and right of the wall.
While a majority of PIETRA's projects are residential, they also supply materials and finish projects for commercial spaces as well. One example of commercial projects PIETRA has worked on in the past is the W Hotel in Atlanta.
PIETRA has done an excellent job establishing itself as a brand. Working with designers, architects, builders, fabricators and owners, PIETRA consistently creates new connections within the Atlanta market and is spreading its product throughout the perimeter and the South East.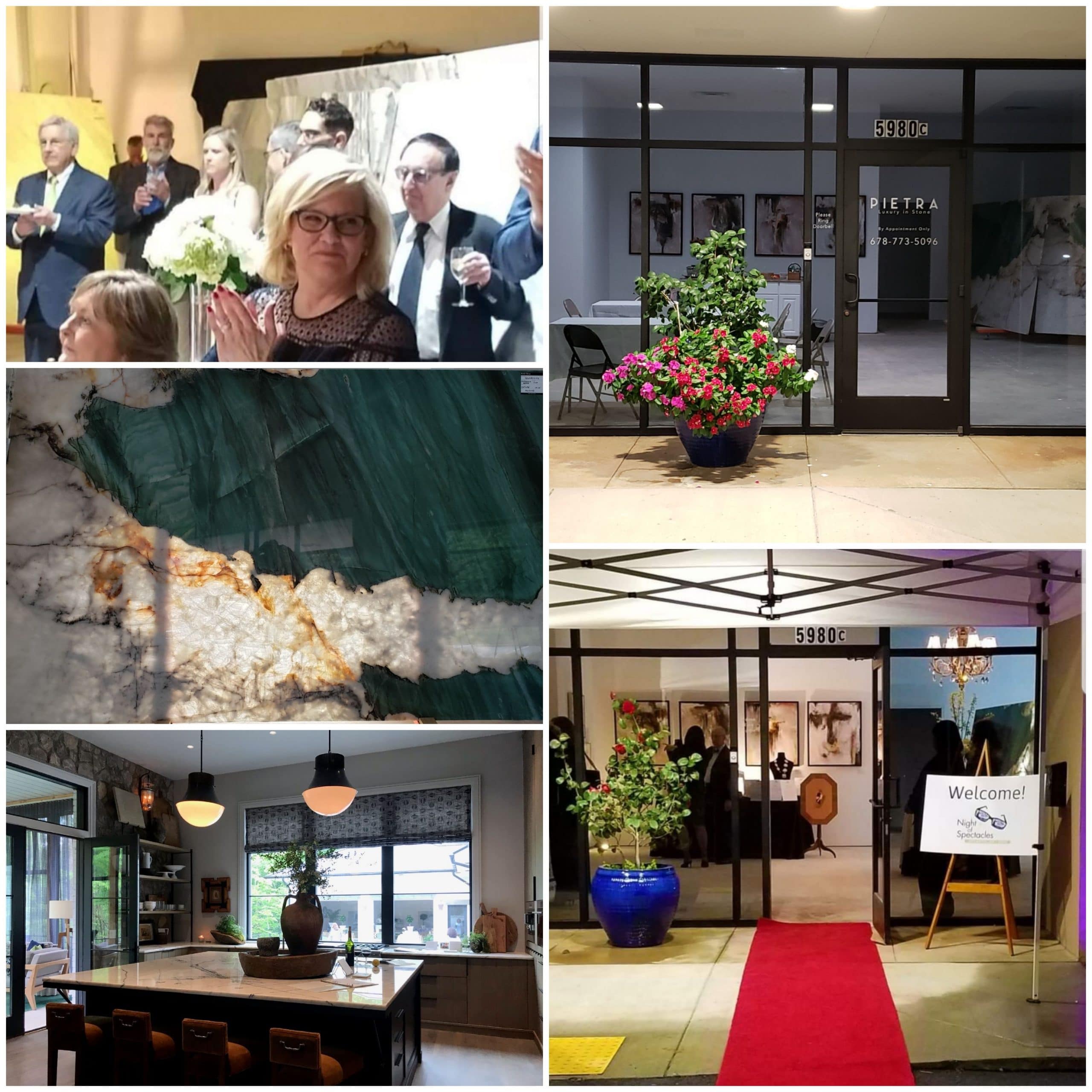 While several products look out of reach for buyers in the area, PIETRA is known for having inventory at a variety of price ranges. Offering manageable pricing is one-way PIETRA creates luxury styles in homes at a competitive price point.
Because PIETRA works only with 100% natural stone, no two products are exactly the same. Every project is one-of-a-kind and cannot be replicated. This means when a consumer purchases a PIETRA product for their home, it won't be found anywhere else.
Another aspect that sets PIETRA apart from other businesses is its use of Azerocare. This next revolution in natural stone is a treatment for natural stone that protects without affecting the colors and characteristics of the product. First of its kind, Azerocare offers protection from etching and staining caused by acid-based food elements, oil, fat and grease. The product also doesn't react to UV-rays and increases the hardness of the material by 50%. On top of protecting the product, Azerocare acts as an antibacterial treatment, meaning only a little neutral soap and water is needed to clean the area. The use of this one-of-a-kind product ensures that not only will residents have incredible surfaces in their new home, but that they won't deteriorate over time due to daily wear and tear.
To see examples of the PIETRA Luxury in Stone products or to learn more, visit www.PIETRALuxury.com. You can also listen to the full interview above.
Never miss an episode of Atlanta Real Estate Forum Radio! Subscribe to the podcast here. You can also get a recap of any past episodes on our Radio page.
---
Georgia Residential Mortgage Licensee, License #22564. NMLS ID #6606. Subject to borrower and property qualifications. Not all applicants will qualify. New American Funding and PIETRA are not associated. Click here to view the terms and conditions of products mentioned during the show. Corporate office 14511 Myford Rd., Suite 100, Tustin, CA 92780. Phone: (800) 450-2010. (February/2020)
---
New American Funding is a family-owned mortgage lender with a servicing portfolio of over 123,000 loans for $30.4 billion, 198 branches, and about 3,100 employees. The company offers several niche loan products and has made Inc. 5000's list of Fastest-Growing Companies in America six times. It has a state-of-the-art career training facility and develops innovative technology, including the GoGo LO mobile application. For more information, visit www.branch.newamericanfunding.com/Atlanta.

---
The Atlanta Real Estate Forum Radio "All About Real Estate" segment, presented by Denim Marketing, highlights the movers and shakers in the Atlanta real estate industry – the home builders, developers, Realtors and suppliers working to provide the American dream for Atlantans. For more information on how you can be featured as a guest, contact Denim Marketing at 770-383-3360 or fill out the Atlanta Real Estate Forum contact form. Subscribe to the Atlanta Real Estate Forum Radio podcast on iTunes, and if you like this week's show, be sure to rate it.