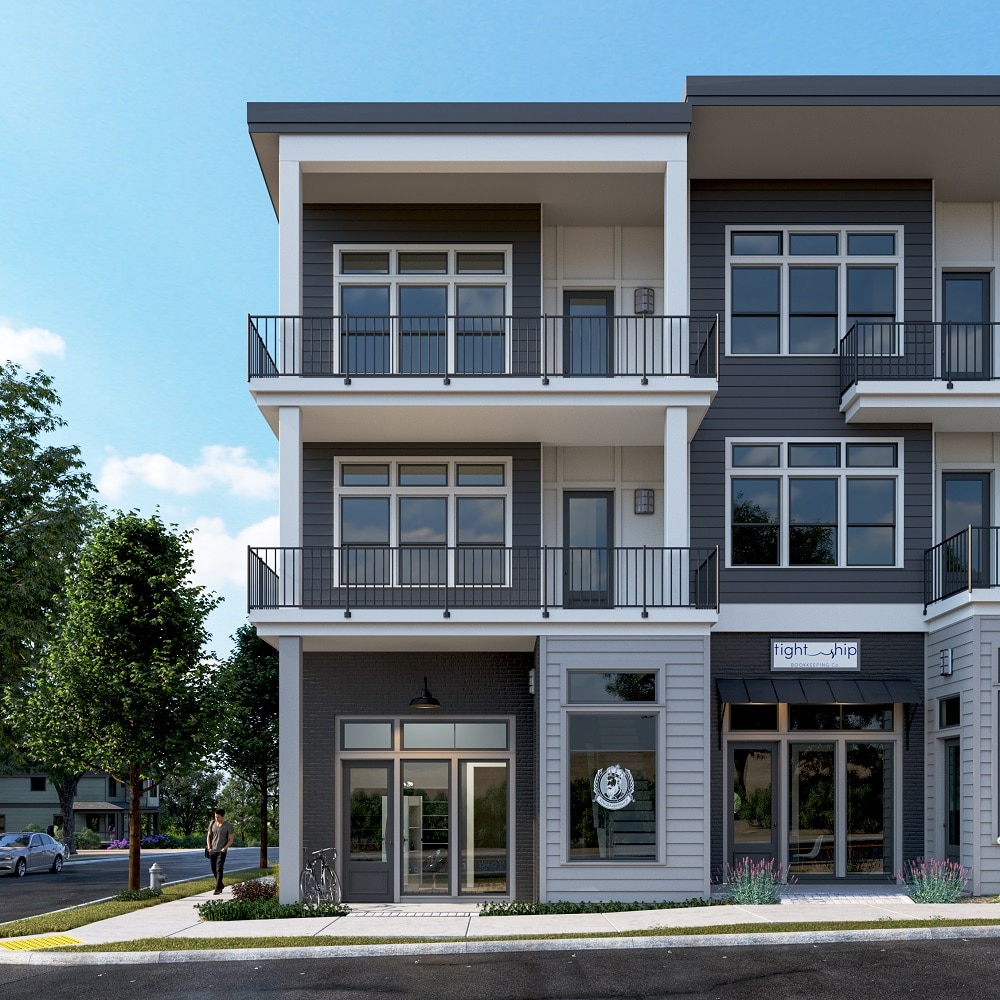 The Brightstar Team | COMPASS recently announced new Decatur homes are coming soon at Elle at Oakhurst. Priced from the $700,000s to $1 million, this community of townhomes and single-family homes is located in the Oakhurst community of Decatur.
Homes and townhomes are currently under construction, and one single-family home is already under contract. Several of the townhomes offer live/work options with retail on the first floor. Homes feature front porches and oversized screened-in outdoor living spaces. Spacious plans feature five bedrooms, four baths and two-car garages with kitchens adjoining to the living room with fireplace and owner's suites with sitting rooms that open to screened porches.
"Elle at Oakhurst is located in a sought-after area of town and the homes are beautiful with well-designed living spaces," Brightstar Team | COMPASS Principal Michelle Jenkins said. "Buyers appreciate the extra touches, such as porches that allow them to connect with their neighbors and the great outdoors."
Elle at Oakhurst is conveniently located near MARTA and offers easy access to major interstates. Just south of downtown Decatur and 6 miles east of downtown Atlanta, Oakhurst offers an abundance of shopping, dining, entertainment and outdoor activities options.
Homeowners will love the proximity to nearby retail and restaurants including Kroger, Oakhurst Market, the Imperial Restaurant, Wahoo! Grill, Decatur Square, Decatur transit, Universal Joint, Karvarna Coffee, Revolution Coffee and Doughnuts and much more. Oakhurst Dog Park, Wylde Center, Harmony Park and several other nearby parts provide ample opportunities to enjoy nature. The Oakhurst Porch Fest is a favorite local festival that takes place each October.
Students living at Elle at Oakhurst will attend Decatur city schools, which are ranked No. 4 in the state according to data compiler Niche, which ranked Georgia's best school districts for the 2019-2020 school year.
While construction is underway, the sales staff at Elle at Oakhurst is selling from a cool, retro RV.
Elle at Oakhurst is located at 131 Mead Road in Decatur. To learn more about these new Decatur homes, visit www.ElleAtOakhurst.com. Call Racquel Vannberg at 470-269-6666 for more information regarding availability or to schedule a tour.
ELLE AT OAKHURST BUILDER TEAM
Brad Campbell, a native Atlantan who has closed over 3,000 properties is collaborating with well-known, award-winning builder Alan Cablik on Elle at Oakhurst. Their combined knowledge of investment and design creates Elle at Oakhurst.
ABOUT THE BRIGHTSTAR TEAM | COMPASS
The Brightstar Team | COMPASS is a new homes sales and marketing team that is affiliated with COMPASS. The team combines experience in home building, sales, marketing, architecture and interior design to provide clients with a vision and process that is unmatched.