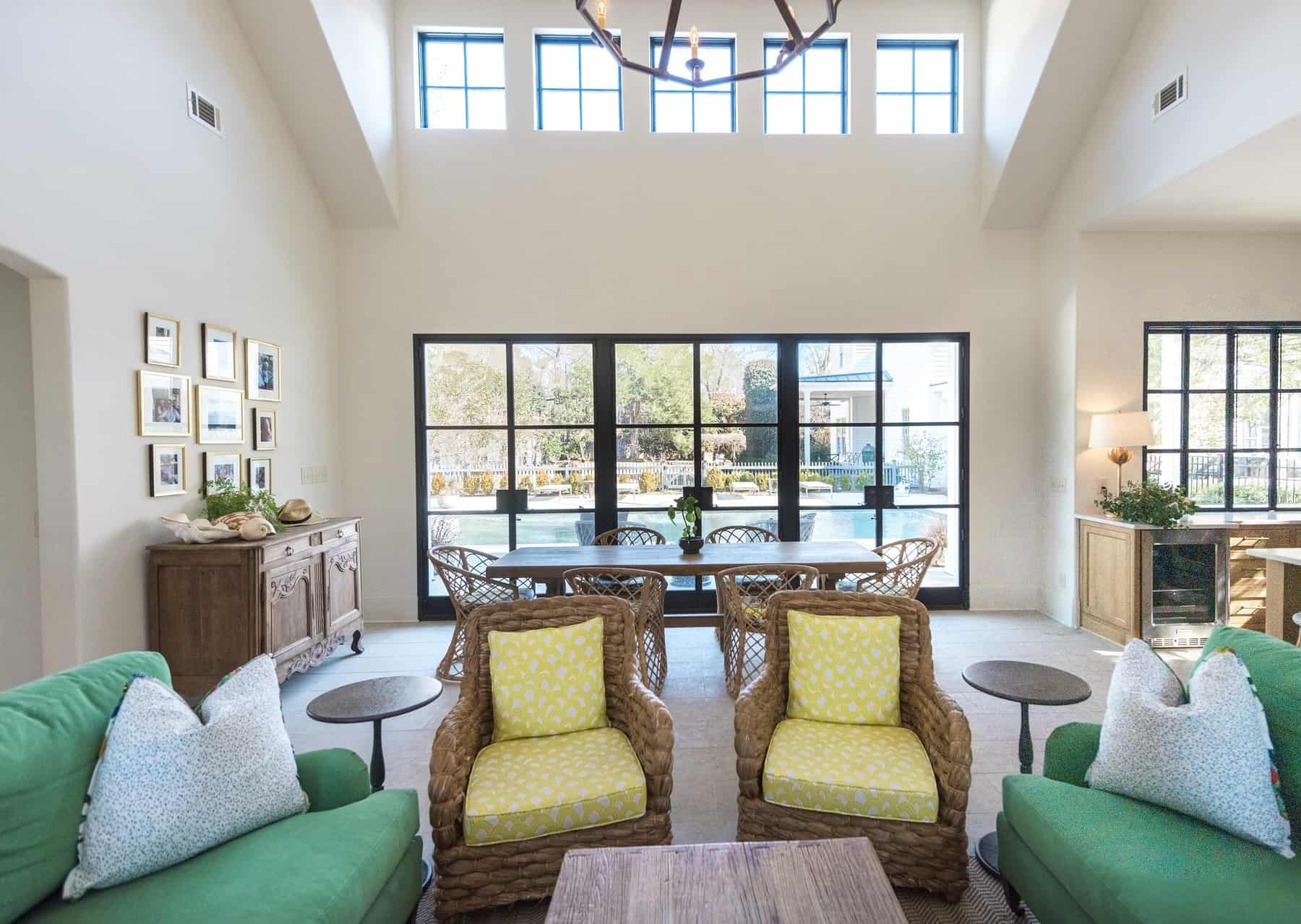 Locally owned and operated Womack Custom Homes recently completed a stunning custom pool house addition in Cartersville. This new structure will serve as the perfect space for indoor/outdoor entertaining around the glistening pool with oyster stone surround.
When it comes to creating thoughtful outdoor living spaces, three of the most popular options include extended covered porches, cabanas or pool houses. While covered porches provide a step-out extension of the home's common living areas and cabanas provide the right amount of shade to escape the sun on a hot summer day, pool houses are the ultimate in entertaining poolside.
Whether it is a place to shower, change, grab a bite to eat or simply enjoy some shaded coverage, pool houses can accommodate it all.
Pool houses can even be enjoyed in cooler months if the pool is heated or also features a hot tub.
This latest custom pool house addition by Womack Custom Homes features roughly 1,000 square feet of living space with oyster stone flooring throughout and an open-concept design for uninterrupted entertaining through the full gourmet kitchen, living area, dining space and out to the pool area with covered porch space.
Offering plenty of room to prepare entire meals or lay out a pool party spread, the gourmet kitchen features an oversized, functional island with seating, pendant lighting and a farmhouse sink, limestone countertops, quarter sawn oak cabinets, stainless steel chef-style appliances, a trendy scallop-tile accent wall that also serves as a
backsplash, built-in wine cooler and floating shelves. Additionally, the kitchen's custom accordion-style steel windows open to serve as a walk-up bar with seating.
Featuring plenty of seating to relax and enjoy, the living area boasts a wall of built-in shelves for storage or display and a dramatic chandelier. The dining space features a spacious table with seating adjacent to the wall of custom steel French doors leading out to the pool area. For ultimate guest convenience, the pool house also features a full bath with walk-in shower featuring scallop tile and dual/rain showerheads.
Custom building, remodeling or adding onto an existing home can be difficult for a number of reasons, and that is why it is imperative to select a home builder or contractor, like Womack Custom Homes, that puts budget and timeframe at the forefront of the project. The Womack team has the experience to create desired spaces with as little stress as possible for its customers.
Click here to see the full photo gallery for this custom pool house addition. Consider Womack Custom Homes for your next home remodel, historic renovation or home addition in the North Georgia area. The Womack team has the vision and experience to complete projects of all sizes both big and small.
Visit www.WomackCustomHomes.com for more information regarding available services from Womack Custom Homes including custom builds, historic renovations, remodels and more.