Back in the pre-Olympics early 1990s, as Deion Sanders enjoyed his "Prime Time" Falcons glory and a baby-faced Chipper Jones showed promise for the Braves, the City of Woodstock was little more than a quiet, flyspeck railroad town of 4,000 people, set inconspicuously amid the explosion of metro Atlanta's northern suburbs.
Thirty years later, the Cherokee County city's population has grown exponentially. A marketing push in recent years, combined with an upsurge in restaurant and retail activity, plus a growing outdoors and arts component, has fashioned Woodstock into an award-winning destination and template for suburban walkability. Still, in the estimation of Stacy Brown, the city's marketing and communications manager, Woodstock remains under-the-radar.
"I absolutely think [the city is] underappreciated," says Brown. "In some aspects, people consider us part of the Atlanta metro, and some consider us part of the mountains, so maybe that's why. I think people feel like it's farther away than what it is. But it's not; I think it's just as accessible as Roswell or other towns."
Located about 30 miles (or 40 minutes, with agreeable traffic) from downtown Atlanta, Woodstock has pioneer roots that trace to the 1830s, but it really sprung to life as a railroad hub in decades after the Civil War. Following the city's Centennial celebrations in 1997, a turning point came with concerted efforts by city officials and developers in the early 2000s to craft a downtown master plan as part of the Atlanta Regional Commission's Livable Centers Initiative, a push for more vibrant, walkable places across the metro. That produced a 32-acre downtown mixed-use project by developers Morris & Fellows with a range of buildings inspired by different eras, to lend the impression it evolved organically over time. And those efforts are credited with catalyzing $600 million in investment within a square mile and launching a modern-day evolution in Woodstock that continues today despite the global pandemic.
Now, within its 12 square miles, Woodstock counts more than 33,000 residents (with about 120,000 more in surrounding, unincorporated areas). Around downtown's Main Street, thousands of new housing units and two dozen restaurants have sprung up, much of that replacing vacant lots and former railroad warehouses. The Georgia Municipal Association has bestowed Woodstock with a "Live, Work, Play City Award," and just like in 2015, the city was named among Money magazine's Best Places to Live this year.
Money editors considered towns with populations of at least 25,000, weighing factors such as economic strength, diversity, school quality, and cost of living, with Woodstock slotted at No. 17 among 50 places. In response, Mayor Donnie Henriques pointed out that Woodstock's median home price is on par with the national average, while the median household income is 30 percent higher than the rest of Georgia.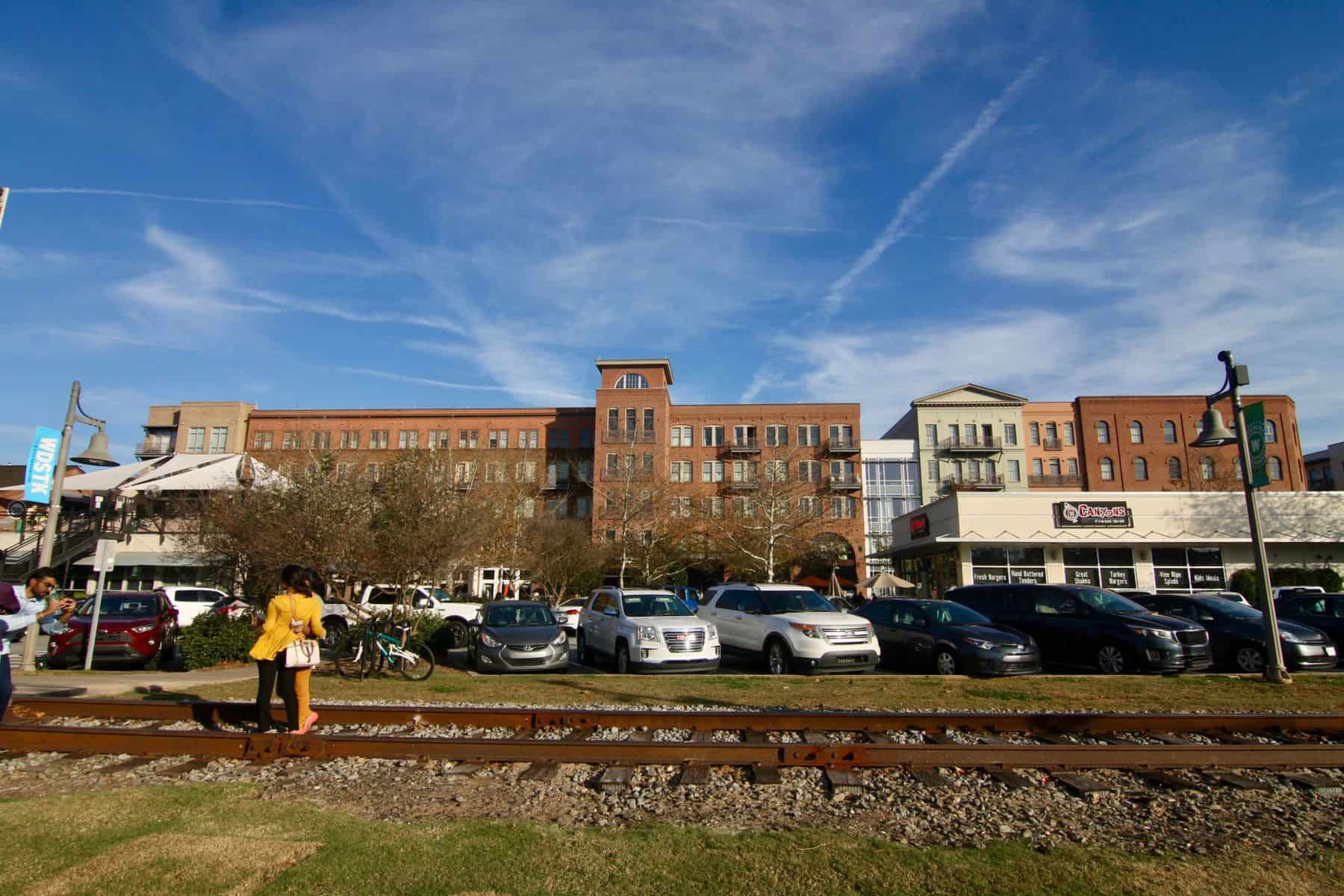 Brown attributes Woodstock's population growth—roughly 30 percent in the past decade alone—and relative economic stability to several factors: It's the closest city to Atlanta in Cherokee County, which consistently ranks among the fastest-growing in the metro. Economic development teams have successfully marketed properties with easy Interstate 75 access that resulted in major manufacturing wins and job gains. And downtown, Woodstock "has had real longevity on the city council with some economically development minded officials" that's lent continuity to the pro-business push, notes Brown.
An entertainment district ordinance that allows for open-container alcoholic beverages in downtown Woodstock—passed in 2016, making it among Georgia's first cities to adopt such relaxed rules—has helped generate buzz (and not just literally). In 2019, the city approved a second open-container entertainment district for The Outlet Shoppes at Atlanta, which Brown says has emerged as an international tourist destination.
Another Woodstock lynchpin has been Reformation Brewery, a sudsy social hub that relocated from an office park a couple of years ago to a former warehouse tucked off Main Street. "Reformation has been a massive, massive driver. They've been growing and getting more recognition, and that's great for the town," says Brown. "Spencer [Nix], the owner, is a Woodstock native and has a huge heart for the community."
The city's 23-mile multiuse trail system—highlighted by the Noonday Creek Trail, which is expected to connect to a trail of the same name in Marietta within five years—is in planning stages for nearly tripling to 60 miles. It's helped bolster the city's appeal to outdoors enthusiasts, in conjunction with mountain biking trails and paddle-boarding options along the Little River and Lake Allatoona.
Other notable downtown additions include the Northside Hospital Cherokee Amphitheater in 2016 and a rising office project near the circa-1894 Century House Tavern that'll house offices for Harry Norman Realtors. (Two retailers have closed since March but due to factors beyond just the pandemic, Brown says.) Meanwhile, the city's Elm Street playground—a kiddo utopia of rock mounds for climbing, tunnels, and a boardwalk—has opened in recent months beside the Elm Street Cultural Arts Village, where two building renovations are expected to produce a new art gallery and pottery studio by May.
Two years ago, Woodstock city officials made strides to address the one missing component—a centrally located lodging option—when the Downtown Development Authority purchased Morgan Ace Hardware, a Main Street staple since the 1960s on a large corner lot. That business plans to relocate to a site near the outlet shops, while the city uses its land for a 3.5-acre mixed-use venture also to be developed by Morris & Fellows. The timeline remains TBD, but Brown says visitors can expect a "quirky flag" boutique hotel with a rooftop bar and restaurant overlooking the amphitheater next door, plus a SPLOST-funded parking deck, offices, and more restaurants to bolster Woodstock's diversifying, international culinary lineup.
"We call ourselves 'The City Unexpected' because so many people have stuck in their minds that 4,000-person Woodstock from the '90s," says Brown. "They get up here, and they're like, 'My God, I didn't know this was here—it's crazy.'"
To read more from Josh Green on Atlanta Real Estate Forum, click here.