Cobb County's marquee city downtown Marietta was recently ranked No. 8 in the U.S. for affordable suburbs with urban sensibilities
It's a pristine fall weekday at the Historic Marietta Square, and a spread-out group of bluegrass musicians is plucking away outside the Australian Bakery Café. The music continues beside the Square's famous fountain, a magnet for Hollywood film productions, where a man thumps congas and sings. At sidewalk tables, businesspeople lunch on guacamole, tapas, and the cheesy offerings of Marietta Pizza Company. Kennesaw Mountain lumps off in the distance, speckled at the top in autumn's first golds, and touches of the season continue with a skeleton pirate hung from a traffic light, beside a prominent sign recommending that everyone wear a protective mask. That's the only pandemic downer in sight, besides the majority of people (those not eating, at least) actually wearing masks, heeding the advice.
One thing you don't see in downtown Marietta these days: storefront vacancies. That's because those haven't existed lately, despite the world's turmoil.
"We're full," says Emily Haley, Marietta's economic development project manager. "There might be a couple of office suites on a second floor that aren't open, but everything that's retail or restaurant-related [on the] first floor is all taken." Whenever a slot does become available, she adds, "It's snatched up quick."
Home to about 60,000 people, Cobb County's largest city and county seat was ranked earlier this month by Zillow and Yelp researchers as the No. 8 city in the U.S. for suburban affordability that doesn't sacrifice a "big-city feel." With a typical home value in the low-$300,000s, Marietta might be slightly more expensive than Atlanta overall, but homebuying dollars go farther here than nearby, competing cities such as Smyrna and Canton, researchers found.
"Known for its abundance of nature and parks," the study noted of Marietta, "the culinary scene rivals that of Atlanta."
Chalk that up to the eclectic economic hub that is the historic downtown Marietta, where the 1820s roots predate both Atlanta and Chattanooga.
Within a radius of a few blocks around the Square, the city counts about 50 restaurants and 35 shops selling everything from fancy women's dresses and men's suits to vintage records and kits for magic tricks. Add six art galleries, three theaters (including the revitalized but temporarily closed Strand), plus 11 fresh, Instagram-ready street murals organized by the Marietta Arts Council, and the cosmopolitan descriptions can seem justified. The commercial core manages to feel both bustling and quaint—but never claustrophobically small-town.
"The foot traffic and options have increased, along with the quality of the options," says Haley. "We have a steakhouse, a distillery, a brewery, a higher-end tap house, a tapas place, all these things that weren't there 10 years ago. It's that urban amenity that you weren't necessarily getting, and it's come a long way."
Like everywhere, Marietta's shops and restaurants were walloped by the COVID-19 lockdown and a subsequent pivot toward takeout and sidewalk inhabitation. But not only did no businesses permanently shutter specifically because of the novel coronavirus, several new concepts have opened during the pandemic, as Haley notes. Those include: The Third Door on Church Street, a speakeasy-style cocktail lounge in a former gas station; Mac's Chophouse, a classical American steakhouse; and the second outpost of Pie Bar bakery on Powder Springs Street. The latter business, like Glover Park Brewery on nearby Atlanta Street, has helped to enliven corridors off the Square where diners and shoppers rarely used to venture.
Coming attractions include a YouTube influencer's conversion of an old church into a high-end salon (also on Atlanta Street) and Red Hare Brewing's The Still on the Square, a Cuban restaurant concept with a focus on rum drinks that's taking the longtime Hemingway's Bar and Grill's space, after the building's owner sought a fresh tenant. Red Hare "is trying to open this month, any weekend now," says Haley. "They just put up the sign a few weeks ago—they're rockin' and rollin'. Honestly it's the fastest turnaround I've ever seen."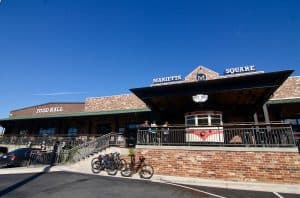 This comes on the heels of the splashy 2019 debut of Marietta Square Market, an adaptive-reuse, food-hall venture a block off the Square in the vein of Krog Street Market.
The market's 20 restaurant spaces are full, save one that could be converted soon to additional seating. On a recent visit, the market's main patrons seemed to be college students—Kennesaw State University attendees are a key patronage demographic for downtown—who noshed on tacos and Mediterranean street food.
Heading back toward the Square, visitors will cross Marietta's section of the Mountain-to-River Trail, which links downtown for bicyclists or joggers to Kennesaw Mountain about three miles away, and to the Noonday Creek Trail from there. Eventually, heading the other direction on a bike will take you along 10 miles of contiguous path to the Chattahoochee River, though a few gaps remain for now.
Asked what distinguishes downtown Marietta from other revitalized, suburban town centers, Haley thinks back to the Great Recession, when boarded-up shops dotted the Square like missing teeth. The growing county's demographics continue to support new businesses downtown, she says, with no endpoint in sight.
"What we have is this Square, it's been around for decades, and the way people have repurposed these buildings into really awesome, eclectic businesses has been really cool," says Haley. "It's exactly what you want to see in economic development."
Click here for more stories by Josh Green.