The Atlanta Sales and Marketing Council invites you to roll the dice and take your chance at its annual Silent Auction and Holiday Party! The Monopoly: SMC Edition 2019 Party is a night full of fun and games, with the chance to bid on or win a variety of prizes and gifts, with all proceeds benefiting HomeAid Atlanta, the designated charity of the Greater Atlanta Home Builders Association.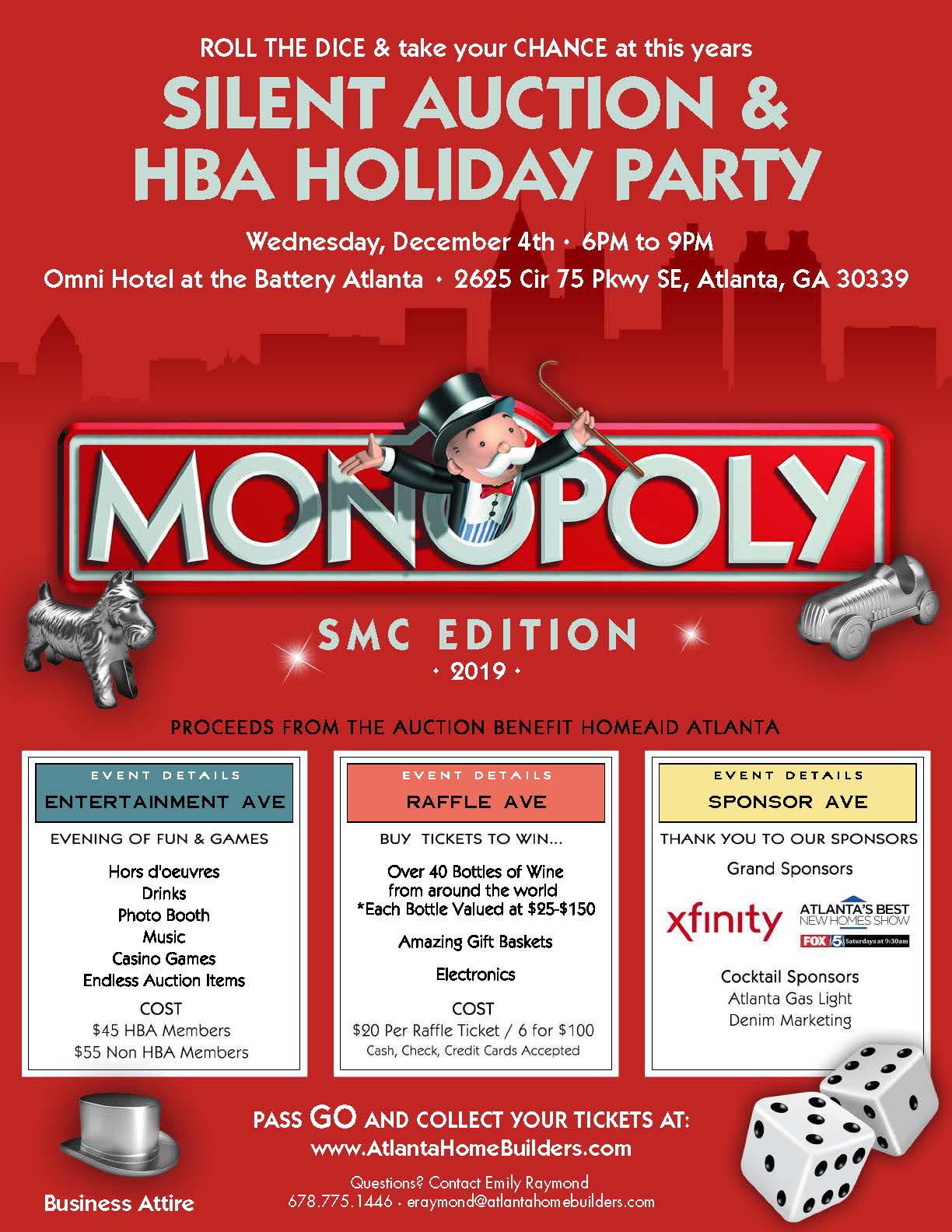 This year's event takes place Wednesday, December 4, 2019, from 6 to 9 p.m. at the Omni Hotel at the Battery Atlanta, located at 2625 Circle 75 Parkway SE in Atlanta. The game-themed night features heavy hors-d'oeuvres, drinks, a photo booth, music, casino games and endless auction items.
Raffles will be happening throughout the night as well. All attendees can buy tickets to win over 40 bottles of wine from around the world, amazing gift baskets, electronics and more. Plus, you'll have the opportunity to bid on dozens of donated auction items ranging from trips and experiences to services and gift cards.
The SMC Silent Auction and Holiday Party event is $45 for HBA members and $55 for non-HBA members. Each raffle ticket is $20, or purchase six tickets for $100. For all items, cash, check and credit cards will be accepted.
Thank you to the many sponsors making this night possible, as well as the many companies and individuals that have donated items to the auction. Grand Sponsors include Atlanta's Best New Homes Show and Xfinity. The Photo Booth Sponsor is McMichael & Gray and Entertainment Sponsors are Angel Oak Home Loans, Century Communities and Cook & James. Cocktail Sponsors are Atlanta Gas Light and Denim Marketing.
Ready to play? Pass go and collect your tickets online here. If you have questions or need more information, contact Emily Raymond at 678-775-1446 or email ERaymond@AtlantaHomeBuilders.com.