Tucked between Peachtree Industrial Boulevard's interstate-like hum and Buford Highway's commercial bonanza, downtown Norcross proudly maintains a quiet Mayberry vibe. During a recent visit, American flags flapped on telephone poles, the rosebushes and elephant-ear plants thrived around Thrasher Park's kid-free playground, and stately old Victorians stood sentinel around Norcross' version of Main Street, where tenants of the vintage brick storefronts offer yoga, arrays of tap beer, fresh coffee, Mexican, Italian, and even British cuisine. That's not to say Norcross—offering one of the more celebrated historic downtowns in rapidly growing Gwinnett County, roughly 20 miles northeast of Atlanta—is stuck in the past.
Follow the railroad line that first injected life into Norcross 150 years ago two blocks south of downtown, over a hill, and you'll find hundreds of homes in planned communities that are upscale but approachable, designed to embrace small-town walkability. The newest facet is called Broadstone Junction, a luxury apartment development that has transformed a 12-acre site of forlorn fields, standard offices, and wide asphalt parking lots.
With its adaptive-reuse of brick buildings that housed WestRock, a national packaging company, a "crown-jewel" half-acre community park, and two multifamily buildings anchored by a large, mural-bedecked parking garage, Broadstone Junction recalls similar projects in hip intown neighborhoods like Old Fourth Ward. And that was the goal of developer Alliance Residential, a company behind five multifamily ventures in Atlanta this year alone.
Those include the first residential component at historic Pratt-Pullman Yard in Atlanta's Kirkwood neighborhood, and a ground-up build on the flipside of Gwinnett in Sugar Hill, which aims to bolster another downtown and capitalize on the county's growth. Both of Alliance's Gwinnett projects have debuted and launched leasing efforts in recent weeks.
"Gwinnett's a focal point due to the strong job market, highly educated demographic and lack of available Class-A rental options," Todd Oglesby, Alliance Residential's Southeast Managing Director, wrote in an email. "In addition, developing rental options in close proximity to thriving suburban downtowns creates a unique opportunity to draw historically urban renters to Gwinnett."
For now, Gwinnett is Georgia's second most populous county behind Fulton, but the Atlanta Regional Commission predicts it will swell by 50 percent to about 1.5 million residents over the next three decades, claiming the Peach State's population title. U.S. Census data show Gwinnett has packed on about 140,000 people—a City of Athens and then some—since 2010 alone.
According to options listed on the Broadstone projects' websites, rents in Norcross begin at $1,245 monthly for a one-bedroom, one-bathroom unit with a very city-like 528 square feet. In Sugar Hill, the entry point one-bedrooms rent for a bit more, $1,379 per month, for 667 square feet, per current marketing materials. The highest rents listed thus far clock in at $2,150 for a three-bedroom flat in Norcross. *
So what do those prices get for renters seeking alternatives to more crowded, pricier urban centers?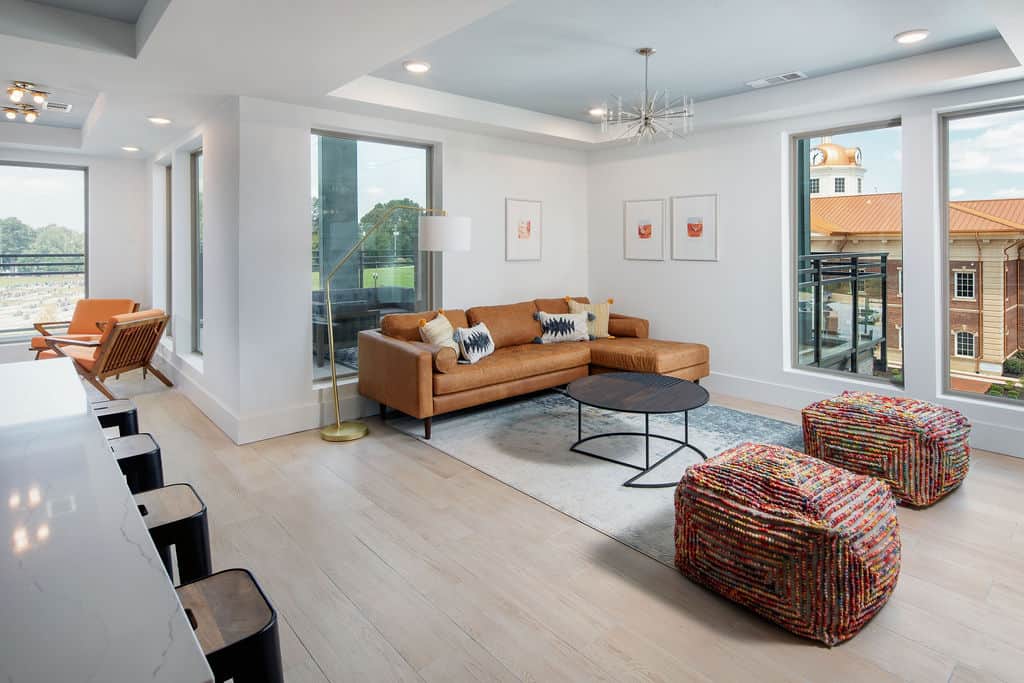 Let's start with Broadstone Sugar Hill, located about 17 miles up the road from downtown Norcross, near Buford and the southernmost shores of Lake Lanier.
Oglesby says the Niles Bolton Associates-designed project marks the first upscale rentals in Sugar Hill proper and the final piece of the city's downtown master redevelopment vision, the Sugar Hill Town Center. The New Urbanism-inspired node includes a city hall, sprawling green spaces, a performing arts theater, a sports complex, 50,000 square feet of eateries and offices, and a 1,750-seat outdoor amphitheater—The Bowl—that's hosted the likes of Michael Bolton and the Village People.
Spread across four buildings, Broadstone Sugar Hill has brought 315 apartments between one and three bedrooms, plus 4,500 square feet of street retail. Perks include an onsite coffeeshop, a spa and "playground" for pets, and a large saltwater pool. An added bonus is direct access to initial phases of the Sugar Hill Greenway, a planned 16.5-mile loop of multiuse trails linking to other parks and neighborhoods in the area.
Collectively, Oglesby describes Sugar Hill's new core as "a unique town center" that "maintains small-town charm and a sense of community."
Beyond the new park and walkability to Norcross' vibrant downtown, Broadstone Junction, as designed by Brock Hudgins Associates, offers a private library, a maker space for crafty residents, a gym with yoga and tire-flip areas, plus a saltwater pool with fountains and a roomy sun shelf. Two new buildings on site contain 200 apartments, while former offices were redone as 90 lofts, with airy ceiling heights and walls of original brick. A flowery mural that climbs the cement parking deck is the work of Atlanta artist John Tindel.
Oglesby tipped his cap to Norcross officials for creating "a quintessential Americana environment, featuring supreme walkability, local restaurants and shops, and an abundance of character" over the years.
"Given this community's close proximity to key job markets and transportation corridors and lack of rental options," he notes, "Norcross is an ideal location to provide brand new apartment living."
Photos Courtesy: Josh Green and Alliance Residential.
Click here for more news on this site by Josh Green.