Podcast: Play in new window | Download
On this week's All About Real Estate segment of the Atlanta Real Estate Forum Radio podcast, co-hosts Carol Morgan and Todd Schnick are joined by Chris Wegener, sales executive of Graydon Buckhead,
Atlanta's premier luxury high rise. The group discusses Graydon Buckhead's dedication to delivering the ultimate residential experience along with the company's remaining timeline.
Graydon Buckhead broke ground in 2020 with the expectation to complete construction on the 22-floor luxury high rise in mid-2022. Graydon Buckhead now expects to complete months ahead of schedule in February 2022 with development lead by Kolter Urban, a Florida-based development company. The condos promise residents a lavish lifestyle in the heart of the city. Located at 2520 Peachtree Rd., the condos are central to shopping, dining, places of worship and parks. Read more about local attractions and Buckhead here.
Wegener works with Graydon Buckhead as a sales executive to help residents find their dream home. As an Atlanta native, he knows exactly what buyers are looking for – a Buckhead home with prime views and top-notch amenities.
"The Graydon is unlike any high rise we've seen really at any time. It's special in a lot of different ways," said Wegener.
Buyers looking for a private, secure and exclusive address will enjoy the Graydon's 45 residences, onsite resort-style amenities, private accommodations and unparalleled city views. Sales are strong with 40% of condos already sold, including the 21st-floor penthouse. With only one penthouse left and only a little over half of the residences available, prospective buyers can choose from three available plans: Moore, Wesley and Hightower.
From spacious owner suites to western-facing terraces, each plan provides luxury and up-town decadence suitable to each and every Graydon homeowner. The Moore plan provides the lower levels with around 2,700 sq. ft which includes 2 to 3 bedrooms, 3 baths, a den and a western-facing terrace. The Wesley plan is just over 3,000 sq. ft. with three separate terraces. For a total of 3,600 sq. ft., the Hightower plan consists of 3 bedrooms and 3.5 baths, a formal living space, a den and spacious terraces.
"Our buyers who have already purchased are actually trading the property they have, which might be very close to ours, and they are downsizing not in luxury or space but in upkeep. They want an Atlanta address, and they want the security and privacy that the Graydon offers," said Wegener.
Besides breathtaking Atlanta views and beautiful room finishes, the Graydon also offers resort-style amenities. Buyers will find an array of choices once they move in, from a news café to a dog park to a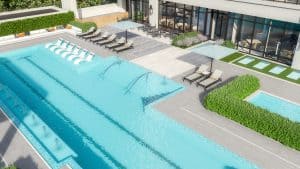 yoga lawn. Other amenities include a fire pit, sauna and spa, full-size pool, lounge chairs, cabanas and a fitness center. With help of the on-staff concierge service, residences will be provided with full-service accommodations to ensure their stay feels like a vacation.
Interested in a Graydon Buckhead residence? Stay on the lookout for Graydon Buckhead updates as the condos continue toward completion. Visit www.thegraydon.com or contact Chris Wegener at Chris@thegraydon.com to learn more about the building's architecture, finishes and much more to make an informed home buying decision.
Never miss an episode of Atlanta Real Estate Forum Radio! Subscribe to the podcast here. You can also get a recap of any past episode on the Radio page.
---
Georgia Residential Mortgage Licensee, License #22564. NMLS ID #6606. Subject to borrower and property qualifications. Not all applicants will qualify. New American Funding and Graydon Buckhead are not associated. Click here to view the terms and conditions of the products mentioned during the show. Corporate office 14511 Myford Rd., Suite 100, Tustin, CA 92780. Phone: (800) 450-2010. (May/2021)
---
New American Funding is a family-owned mortgage lender with a servicing portfolio of over 123,000 loans for $30.4 billion, 198 branches, and about 3,100 employees. The company offers several niche loan products and has made Inc. 5000's list of Fastest-Growing Companies in America six times. It has a state-of-the-art career training facility and develops innovative technology, including the GoGo LO mobile application. For more information, visit www.branch.newamericanfunding.com/Atlanta.

---
The Atlanta Real Estate Forum Radio "All About Real Estate" segment, presented by Denim Marketing, highlights the movers and shakers in the Atlanta real estate industry – the home builders, developers, Realtors and suppliers working to provide the American dream for Atlantans. For more information on how you can be featured as a guest, contact Denim Marketing at 770-383-3360 or fill out the Atlanta Real Estate Forum contact form. Subscribe to the Atlanta Real Estate Forum Radio podcast on iTunes, and if you like this week's show, be sure to rate it.