The Atlanta Sales and Marketing Council (SMC) and the Greater Atlanta Home Builders Association (HBA) are excited to announce that tickets to this year's OBIE Awards sold out in record time, so to accommodate demand, a limited number of additional tickets are available now! The 39th Annual awards gala, coming up on Saturday, October 26, 2019, serves as the Atlanta homebuilding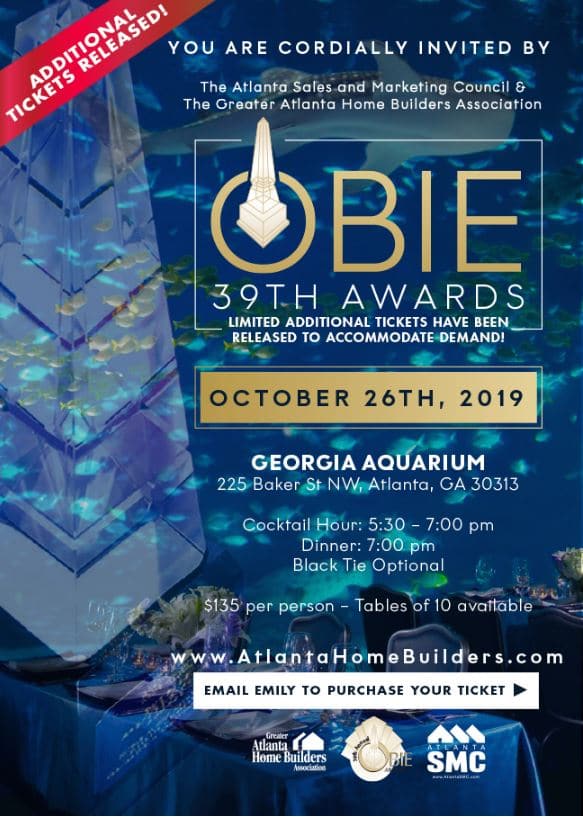 industry's biggest event of the year.
Named for the actual award's obelisk shape, the OBIE Awards began in 1980 and have grown to include more than 100 home building, remodeling, marketing and personal achievement categories. The OBIEs, considered a premier award in the new home construction industry, are given to recognize outstanding accomplishments.
Awards to be presented include Community of the Year, Builder of the Year, Associate of the Year and Council Chair of the Year, to name a few.
Taking place this Saturday, October 26, 2019, this year's celebration will take place at the Georgia Aquarium, located at 225 Baker Street NW in Atlanta. Join your friends and colleagues for a cocktail reception at 5:30 p.m. followed by dinner and the awards ceremony at 7 p.m. Black tie attire is optional but encouraged.
Tickets are $135 per person. Pre-registration is required.
Contact Emily Raymond directly at 678-775-1446 or ERaymond@AtlantaHomeBuilders.com to secure your spot to the Atlanta homebuilding industry's biggest event of the year.
Learn more about the Atlanta SMC here.