Full-service interior design firm Crosby Design Group recently completed the full renovation design of the penthouse suite at Loews Atlanta Hotel, a sleek Midtown Atlanta skyscraper. Notable appointments of the 2,800-square-foot penthouse include a 12-foot scalloped brick ceilings, concrete and stone, two-sided water vapor fireplace,
Additional features include a steam shower in the owner's suite, full morning bar with ice maker in owner's closet, 18th-century, 8-foot solid walnut double doors with custom HVAC grills to hide hallway access to HVAC closet, electric vapor added on glass owner's suite door to shift between transparent and opaque for privacy, a private office with glazed glass wall and glass barn doors that all lead to floor-to-ceiling windows with an amazing panoramic view that a piece of the skyline as an extension to this home!
"Plenty of penthouses have city views but this $3M penthouse offers stunning views both inside and out," Crosby Design Group President & CEO Jennifer Crosby said.
Located on the top 37th floor of Loews Atlanta Hotel, the penthouse suite features three bedrooms, three-and-a-half baths all with custom vanities. The living room and private office share a see-through water vapor fireplace, the owner's suite boasts a custom, reclaimed wood wall and concrete and brick ceilings with reclaimed beams add to the Manhattan Soho vibe throughout.
The gourmet kitchen features custom cabinetry that extends to the concrete ceiling with custom two-sided glass cabinets on either side of the stainless vent hood, marble backsplash with stainless steel grout, 4-foot single-bowl sink with dual faucets, restaurant-level wine dispenser, built-in coffee service with direct water line to extra beverage undercounter glass cooler, subzero refrigerator and freezer with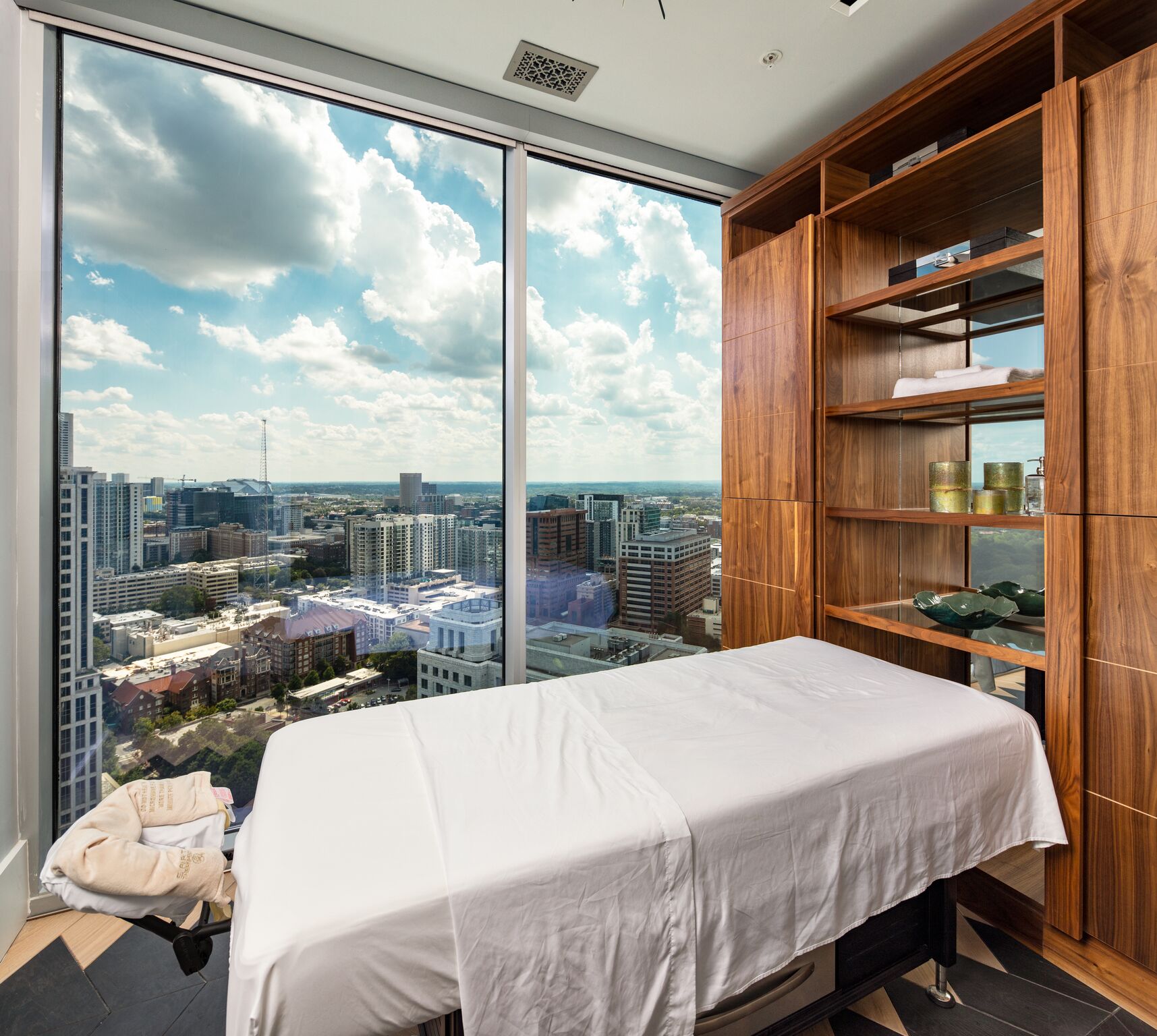 cabinet panels to a Wolf 48-inch slide-in range with grilling options, waterfall quartzite countertop with 4-foot laminated edge details and fully integrated smart home technology, Lutron lighting and shade system through-out and all-controlled PH on glass wall panels in each room.
To further complement the combination of textures and materials, all structural columns, the kitchen ceiling and the fireplace are topped with skim-coat concrete to look as part of the original structure masking the sheetrock. For finishing touches, the firm shopped for the client to curate all furniture and the art collection well over $1 million. The Crosby Design Group team also added client family photos, favorite foods and magazines to truly complete the home.
"Jennifer [Crosby] was born with remarkable talent, an eye for high-end design and décor," penthouse homeowner and Rocklyn Homes President and Owner David Jenkins said. "The detail in my condo, every square inch, is amazing.
"Not very many people can see that extreme detail in their head, much less pull it off, have it installed and have it be as close to perfect as you can get it! I am very happy and very proud to have worked with Jennifer on my penthouse. No one walks in here that is not totally blown away and that's what I wanted!"
To assist with the design-build of the renovated space, Crosby Design Group created full construction documents.
"We literally gutted the existing penthouse to achieve our new design," Crosby said. "We took out existing dropped sheetrock ceilings to
extend to maximum ceiling height and then add 10-inch black matte exposed ductwork to run HVAC throughout the main living areas that reinforced our design concept of a renovated Manhattan-style penthouse.
"We inset all door casings in the hallway 6 inches to eliminate obstructing the view down the gallery hallway to the owner's suite's focal glass door. We also removed the foyer coat closet to add a custom tree hall bench, removed the wall between the living room and office to add a two-sided, see-through water vapor fireplace creating a true architectural element in the heart of the space.
"Our drawings detailed all the framing needed to build including the scalloped brick living room ceiling and reclaimed beam locations and how they related to the adjacent concrete ceilings," Crosby said.
The owner's suite serves as the ultimate retreat with brick ceiling, floor-to-ceiling windows,  a spa-like bath with walk-in steam shower featuring dual shower heads, body sprayers, two rain showerheads and two benches, a separate soaking tub and dual custom vanities that float on a reclaimed wood wall overlooking Downtown Atlanta and an expansive walk-in custom closet complete with coffee/wine bar with ice machine and custom storage with built-in watch safe.
Set in the midst of thriving Midtown Atlanta, the newly renovated penthouse blends perfectly with the latest makeover of Loews Atlanta Hotel. With its focus on commercial, multifamily/mixed-use and residential developments, Crosby Design Group created an updated space that effortlessly combines with the surrounding urban landscape.
To learn more about Crosby Design Group including the firm's available services and latest projects, visit www.CrosbyDesignGroup.com.