It's summertime, which means it's HOT in Georgia. Heatherland Homes invites Cobb County Realtors and agents to escape the heat and enjoy some deliciously cool ice cream at two upcoming events at its new Marietta communities. You'll be introduced to three Cobb County communities from Heatherland Homes – Logan Park, Marvelle and Promenade at the Square – all while enjoying ice cream, receiving a complimentary headshot voucher and being registered to win a grand prize.
"We hope agents will come to cool off and get the scoop on these stunning Heatherland Homes communities in Marietta," says Heatherland Homes President James Nash. "We offer special thanks to Southeast Mortgage for their support and their proven commitment to successful transactions for homebuyers and agents alike."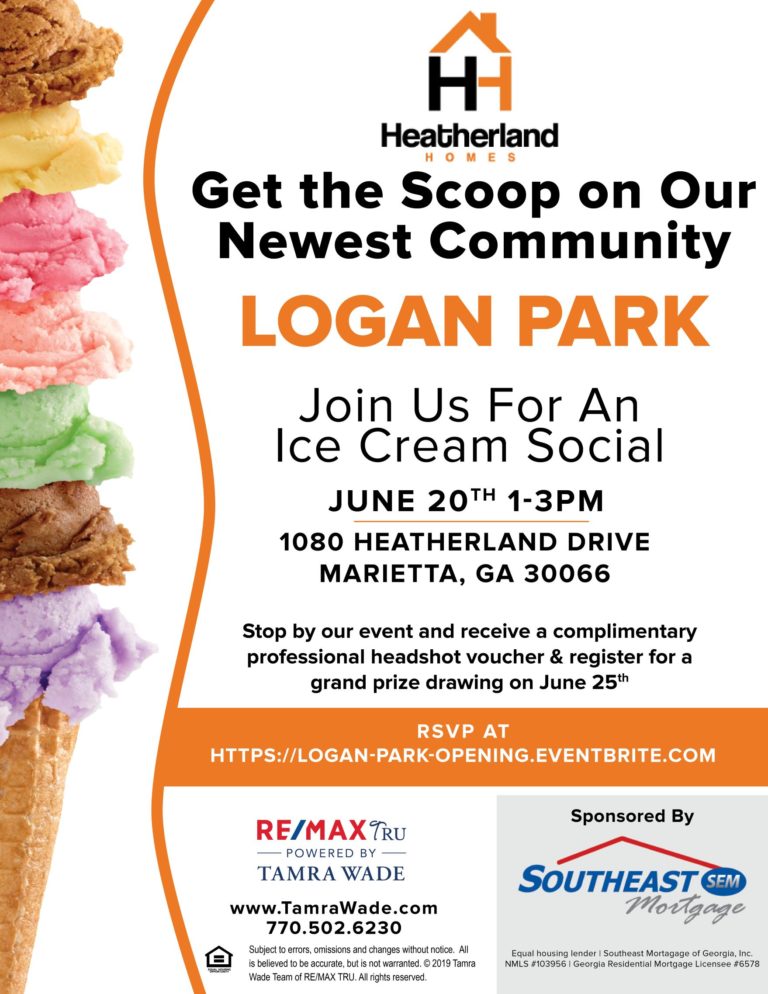 Your first chance to get the scoop on Heatherland Homes is at Logan Park, which you can visit from 1 to 3 p.m. this Thursday, June 20. East Cobb is a growing area, and Logan Park offers a strong sense of community within walking distance of Kell High School and East Cobb Baseball. In addition, the community is just minutes from downtown Woodstock's shops, entertainment and dining. This exclusive community has just 22 spacious homes priced in the low $400,000s. Logan Park's ice cream social will take place in the four-bedroom decorated model, located at 5990 Lee Waters Road in Marietta. The event will be sponsored by Southeast Mortgage Loan Officer Todd Littlejohn. For more information, contact Sales Manager Thomas Munson at 770-502-6230 or RSVP online here.
Do you have clients desiring a relaxed vibe for their new home? Then head to our coastal chic community, Marvelle, for a second ice cream social on Tuesday, June 25 from 1 to 3 p.m. and tour the Marion model home. Offering both single-family homes and townhomes priced from the high $200,000s, homes in this community have fully landscaped front yards and rear-entry garages. All within walking distance of Marietta Square!
Another Marietta community, Promenade at the Square, will be showcased at the Marvelle event. These 52 single-family homes are priced in the mid-$300,000s and are within walking distance of the Marietta Square, just like Marvelle. This event is sponsored by Southeast Mortgage Loan Officer Jason Smith, and will take place at the Marvelle model, located at 146 Gunter Street in Marietta. For more information, call sales managers Shannan Campbell and Lee Wilmot at 770-502-6230 or RSVP online here.