Atlanta-based Blue River Development's Investment Sales Division is helping home builders to see their way through a cooling market by mitigating slowing numbers with sales to build-to-rent (BTR) entities. While best-known for its land development services, the firm continues to expand its brokerage services throughout the Southeast working with BTR funds such as American Homes 4 Rent, Haven Capital Realty and Quinn Residences.
"We help builders to think differently about projects. Build-to-rent takes rental property investing to a new level and creates new opportunities for developers, builders and investors," Managing Principal Brad Cooper said.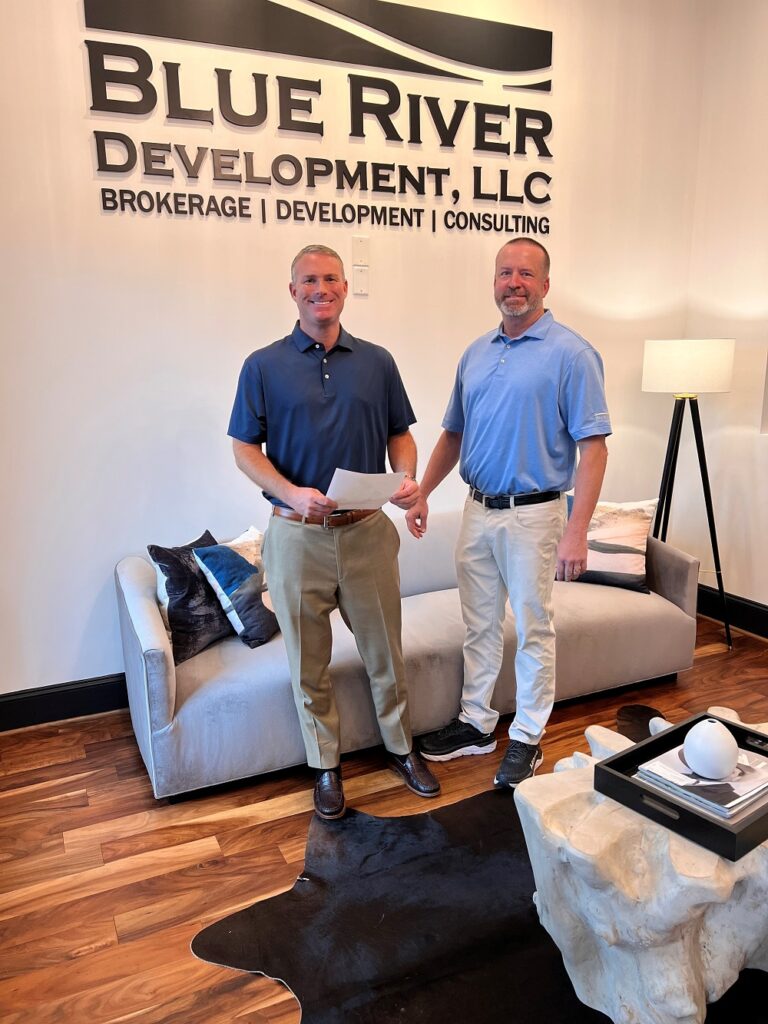 "Blue River did a great job of learning our business model and understanding our buy box as well as our underwriting requirements," said Geoffrey Reid, VP Land Acquisition American Homes 4 Rent. "Therefore, we have built a very successful partnership with the Blue River team, resulting in American Homes 4 Rent's acquisition of over 1,000 lots in the past couple of years, sourced by Blue River Development."
Bobby Stamps has served as Director of Brokerage & Investment Sales at Blue River Development for the past three years. Known for his expertise in the industry, Stamps saw the BTR trend early on and got ahead of the curve.
"BTR funds came to Atlanta a few years ago with an appetite for finished product. We were able to pair builders with BTR groups to provide solutions," said Stamps. To date, Blue River has brokered over 1,900 BTR homes totaling over $800M in revenue to builders. Additionally, Blue River has sold 3,200 lots in the Atlanta market and approximately 900 units in Huntsville to BTR groups.
"Blue River has been instrumental in Quinn Residences acquiring a robust portfolio in the Atlanta market. Their knowledge of current market trends, municipalities, builder sentiment and available supply has been invaluable," said James Howley, Chief Investment Officer, Quinn Residences.  Quinn Residences has tripled its portfolio of homes in the Southeast over the past year and is utilizing Blue River to help them achieve their long-term goals.
Another large BTR Fund, Haven Realty Capital, recently leased 100 percent of its first four fully completed BTR communities totaling 304 homes in metro Atlanta. Blue River maintains a strong relationship with Haven and continues to provide avenues for continued growth.
"We sought out Blue River, as they are a leader in the land and brokerage field in Atlanta. We met with them and shared our goals for the market. Within 30 minutes of leaving their office, they had a deal in place that we eventually would close for two communities with 154 homes delivered at certificate of occupancy," said Chris Turitto, Principal, Acquisitions, Haven Capital Realty.
As the Atlanta market leader working with BTR funds and investment, Blue River Development works to stay on the cutting edge of this rapidly growing trend. Attending conferences such as the IMN Build-to-Rent Land & Homebuilding conference next month in Las Vegas is one way they do this. Look for the Blue River Development team at the conference. This event focuses on private equity, debt and joint venture financing in the land and home building markets.
"We look forward to immersing ourselves in the latest investment opportunities, strategies and trends to help our Atlanta and southeast clients continue to be successful in the BTR space," said Stamps.
Build-to-rent will continue to be a dominant force in the housing market. According to Bloomberg, Wall Street has $85 billion sitting on the sidelines to buy homes that can be rented.
The Blue River Development team has a combined 35+ years of brokerage experience and prides itself on successfully pairing developers and landowners with the right buyers.
Largely focused on metro Atlanta municipalities, nationally recognized Blue River Development's Investment Sales Division can be reached at www.BlueRiverDevelopment.com.
About Blue River Development, LLC
Blue River Development, LLC is a nationally recognized, industry leading land sales and development team that specializes in the Southeast. Its team has over 20 years' experience and has been involved in the origination, acquisition, development and disposition of nearly $2 billion in projects. Such projects are comprised of thousands of residential lots, multifamily units and retail developments. The firm's success has been driven by two factors: its ability to catalog, organize and analyze the most up-to-date market data its integrity and accountability to clients and investors. For more information, visit www.BlueRiverDevelopment.com.
Click for more Blue River Development news.