Landscape architecture strengthens Midtown's urban streetscape
Anderson Design, a landscape design firm based in Lawrenceville, Georgia, is the creative force behind the urban streetscape design of Seven88 West Midtown, a 22-story modern glass and concrete residential tower. The firm, led by John Anderson, ASLA, partnered with Goode Van Slyke Architecture (GVSA) to create an urban utopia in the gateway area that feeds West Midtown.
"We had two primary goals for the landscape of Seven88," said Anderson. "First, to create a strong streetscape environment as a gateway to the rapidly growing neighborhood across the bridge. Second, to make the tower's plaza a comfortable place for residents to interact and relax."
To accomplish the first goal, Anderson Design worked with Goode Van Slyke Architecture to create an active urban edge at street level that draws from the adjacent context of brick industrial buildings. This space is designed to accommodate more pedestrians traveling along West Marietta Street, frequenting the retail shops on the ground floor of the building. Wide sidewalks are lined with manicured trees that mimic the structure and lines of the concrete and glass building. As intended, the streetscape blends seamlessly with the urban fabric while providing a distinct architectural and landscape feel to passersby.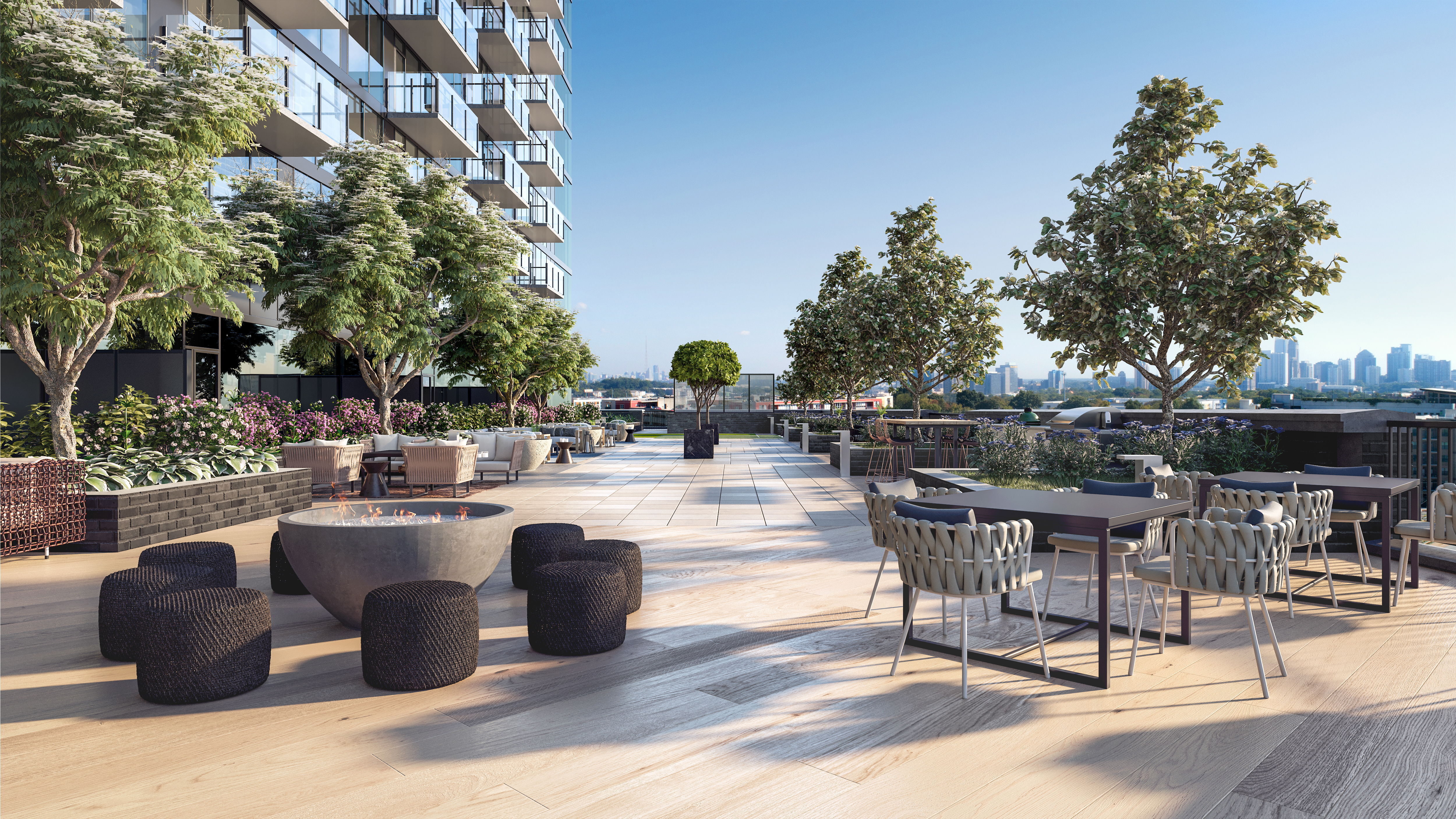 Anderson Design's second purpose was to create a comfortable, private outdoor space for residents in the second-level amenity plaza. The area includes a pool, outdoor cooking areas, large gathering spaces and smaller private conversation nooks. To make this area a true escape for residents while also honoring the urban streetscape, Anderson Design lined the street side portion of the amenity deck with trees that have slightly larger canopies than those on the sidewalks below. The design provides privacy and shade for residents and a second layer of depth and height to the overall design. Throughout the plaza, Anderson Design used hardscaped features and plantings to separate and define spaces where residents can choose to gather with others or to retreat and read a good book. Flowering plants add color and flowing lines that lighten the space and make it even more inviting.
Anderson Design and GVSA have worked on numerous projects before, a relationship that Anderson says is important to success, as the two firms enjoy open dialogue and similar design styles. Founded in 2001, Anderson Design has completed streetscape and urban design projects spanning from the expansive International Drive in Orlando, Florida, to projects Atlanta-area residents will recognize, such as the streetscape in charming downtown Crabapple and the Riverdale Civic Center. The firm also planned and installed the landscape features surrounding the Center for Puppetry Arts, not too far from Seven88 West Midtown, and the Phipps Plaza renovation further north in Buckhead. The firm's portfolio includes an impressive mix of project types, ranging from civic and mixed-use developments to healthcare complexes to educational institutions.