This year's kitchen trends are in full swing! From all-white to earthy neutrals, the All Concepts team has gorgeous countertop selections that are sure to keep your kitchen on trend all year round!
Quartz
The top pick for the 2023 countertop trend forecast is quartz! This ultra-durable material is long-lasting, recyclable, easy to clean and comes in various design and color opportunities to flatter any home décor style. Located in Georgia and South Carolina, the All Concepts showrooms house slabs ranging from dark and moody to bright and airy, and offer quartz countertops ideal for any home.
For a light, minimalistic feel, try the Fairbanks design – a cool white showcasing grey specs throughout the countertop. For a moody, modern look, try the Eternal Marquina design – a jet-black piece with gorgeous white veining.
Quartzite
A close second to quartz on the 2023 countertop trend lineup is quartzite. This stunning stone is environmentally friendly, low maintenance and UV and heat resistant. Featuring naturally occurring elements, quartzite offers an earthier feel to your kitchen.
The White Pitaya option is a bright and airy quartzite with a cool white base, grey specs and muted veining scattered among the piece – perfect for highlighting on a kitchen island!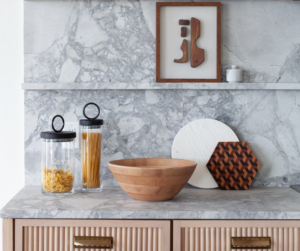 Marble
Featured as the top selection for the 2022 countertop trend forecast, marble has slightly dwindled its way down in the ratings. Long-lasting and heat-resistant with regular upkeep and sealing, marble is well-known for its display of wealth and elegance. This beautiful material adds value to the home and comes in a wide variety of designs and colors with unique ribbons and veining.
Brown Fantasy, a customer favorite, includes a stunning array of muted whites, browns and greys, which makes this piece one of All Concepts' most versatile offerings. This selection provides a luxurious yet earthy feel and emulates a beautiful blend of the ocean and sand.
Granite
While granite may be lower on the 2023 countertop trend lists, it is still a go-to for builders and homeowners! The possibilities are endless with granite with various design and color selections. This gorgeous natural material is heat-resistant, durable and long-lasting. The All Concepts warehouse holds a granite countertop option for all aesthetics with multicolored, dark and light selections.
For a neutral and classic look, Luna Pearl and Dallas White were the top-rated builder selections in previous years. Adding unique dimension and shimmer to your kitchen, Azul Platino is steadily rising in popularity. The Giallo Ornamental and Santa Cecilia designs are perfect for a warm and welcoming feel, and Cotton White is ideal for adding depth to your all-white kitchen!
For additional information on hiring the All Concepts team to simplify your kitchen's countertop and cabinet process during the construction process, visit www.AllConceptsUSA.com.